You probably found our web site while you were searching for information about plasma tube systems for your experimental Rife system.
On this web site you will find information about our products, as well as a considerable amount of technical data about plasma tube systems. There are many free technical manuals and other data available for you to download. By reading these documents, you will find out how our equipment works and what components you will need to assemble your own working plasma tube system. There are lots of technical details about how and why our equipment does what it does. It is not necessary to understand all the technical details in order to assemble your own system. Just follow the suggested procedures in our instruction manuals, and you will be fine. We also offer technical help by email or telephone calls.
---
Why did we develop this equipment? Since 1997 we have been experimenting with Rife plasma tube systems, starting with the earliest 27 MHz equipment developed by Dr. James Bare, D.C. Because of our many years of experience with radio frequency equipment and transmitters, we felt we could make improvements in the radio frequency design of the equipment.
When Jeff Garff published his groundbreaking analysis(1) of the method by which the operating frequencies of the research equipment developed by Dr. Royal Rife actually worked, the whole concept of frequency generation was changed. A soon as Jeff showed that a single audio frequency sweep (we named it Jeff's "Big Sweep") from 500 to 25,000 Hz combined with a carrier frequency of 3.1 MHz (3,100,000 Hz) would generate all the known Rife laboratory frequencies, we decided that it was time to design a solid-state system that would "do the job." But we also wanted to make the system usable for experimenters who did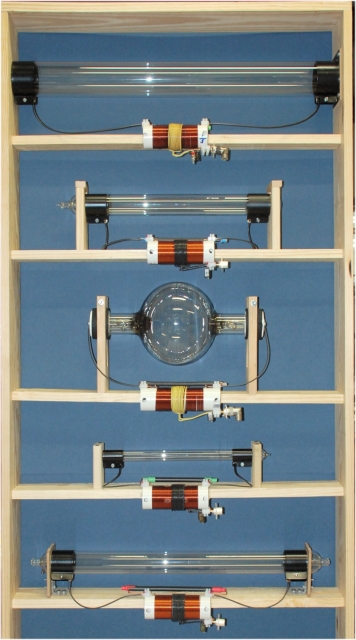 not have a laboratory quality frequency generator. We needed something simple, readily available, and easy to use.
Enter the personal computer. This was exactly what we needed for the audio frequency signal source. The computer would run a frequency generating program to produce the necessary audio frequency sweep to modulate the 3.1 MHz carrier. And our new solid-state audio processor (which would become the SSQ-2F system) would make the transition between the computer and the plasma tube. But, there was a serious problem...
Although computers are pretty good at playing music and speech files, it turns out that they are terrible at making nice, sharp, square waves, at frequencies much higher than about 1,000 Hz. Since we must have sharp square waves all the way up to at least 25,000 Hz for running Jeff Garff's "Big Sweep," this would have been a show-stopper. Luckily for us, it turns out that computers can produce very nice sine waves all the way up to at least 19,500 Hz or higher, depending on the quality of the sound card system in the computer. But even if we could use sine waves, the limit of 19,500 Hz is well below the needed 25,000 Hz for Jeff's "Big Sweep." What to do?
---
The solution was to design the SSQ-2F. The SSQ-2F accepts the sine wave audio signal from the computer, amplifies it, doubles the frequency, converts it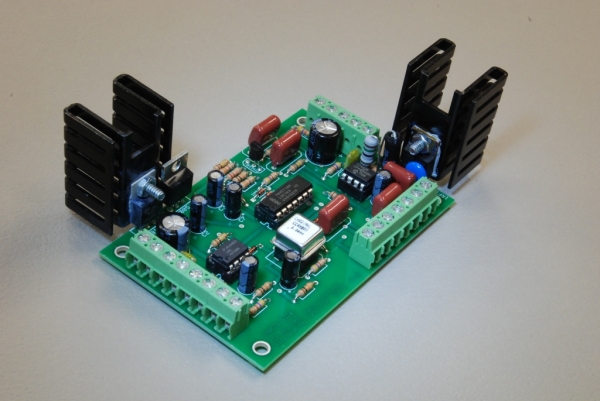 into an adjustable duty cycle square wave, and then uses the square wave to modulate the 3.1 MHz carrier wave. After further amplification, the modulated carrier is sent to the plasma tube.
By doubling the computer's audio frequency signal in the SSQ-2F hardware, we can have the computer to generate a sweep frequency of 250 to 12,500 Hz, which the SSQ-2F will then double to obtain the required 500 to 25,000 Hz for running the "Big Sweep." By using the SSQ-2F, we eliminate the need for a precision square wave generator, by substituting an ordinary personal computer instead.
Using the SSQ-2F lets us use audio signals from iPods, MP3 players, CD players, or any other device that can reproduce a sine wave signal. All in all, the SSQ-2F is the most versatile audio processing system for plasma tube operation. The SSQ-2F will handle any audio frequency, so your plasma tube system is not limited to using only Jeff's "Big Sweep." You may use any frequency or group of frequencies you wish to use with your plasma tube system.

Since the advent of the original SSQ-2F, the same high-quality circuit design and manufacture has been incorporated in our other units such as the PA2, PA3, and SPA4.

We also provide other fine equipment for building your personal plasma tube system. Please click on the OUR PRODUCTS button at the top of this page for information about out other products. Please contact us if you have any questions about our equipment.
---
(1) For an in-depth look at the research that Jeff undertook, and the final results of his work, please visit these links at his web site: