Spectrotek Services
Rife Plasma System Components
Information current as of 03 December, 2017
Type "E" Electrodes for SSQ Plasma Tubes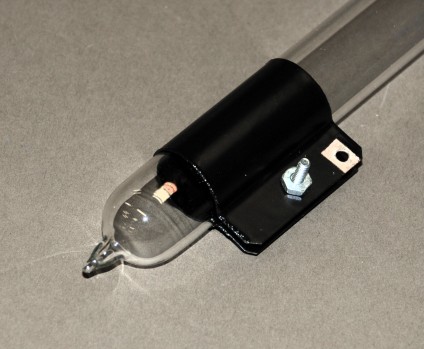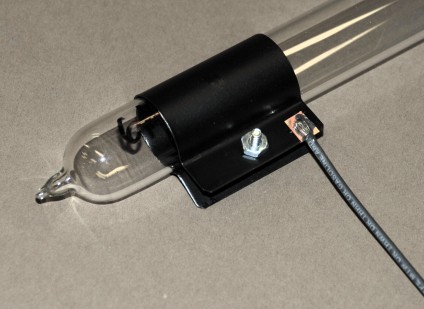 Electrode Types E1 (left) and E1W (right) for the Bill Cheb SSQ-PT Plasma Tube
These are specially treated, heat-dissipating pure copper electrodes for the Bill Cheb SSQ-series of Plasma tubes.
Excessive heat is the most common cause of Plasma tube failure. This type of damage happens when the glass wall of the plasma tube becomes so hot that oxygen gas and water vapor are released from the wall of the tube into the gas mixture. This results in contamination of the gas mixture inside the tube, causing an unwanted color shift in the ionized gas discharge and poor performance, sometimes resulting in amplifier failure.

The process of ionizing the gas in normal operation causes the glass wall of the tube directly under the electrodes to become very hot. Using ordinary bare copper or aluminum electrodes may result in damage to the tube wall due to overheating if high power is applied to the plasma tube. Damage may also result if the electrode area is too small for the power level being used. Due to their relatively poor emissivity, untreated copper or aluminum electrodes do not effectively remove excess heat from the plasma tube.

The "E"-series external electrodes furnished by Spectrotek Services are especially designed to absorb heat from the glass wall of the plasma tube and efficently radiate it away from the tube. Using the "E" electrodes on your plasma tube should extend the lifetime of your plasma tube by reducing excess heating.

The Spectrotek "E"-series electrodes are available in the following sizes:



Electrode type E1, (45 mm wide) without wires, for the Cheb 25 mm / 1 inch diameter SSQ-PT. Price: E1 $25.00, E1W $28.00.

Electrode type E2, (48 mm wide) without wires, for the Cheb 48 mm diameter SSQ-ST. Price: E2 $30.00, E2W $33.00.

Electrode type E3, (50 mm wide) without wires, for the Cheb 50 mm / 2 inch diameter x 27 inch "Original Super Tube. Price: E3 $30.00, E3W $33.00. Note that these electrodes will not fit on the SSQ-ST. Electrode type E4, (50 mm wide) without wires, for the Cheb 76 mm / 3 inch diameter SSQ-BAT. Price: E4 $33.00, E4W $36.00.

Electrode type E5, (nn mm wide) without wires, for the Cheb 18mm diameter x 7" Mini Quartz Tube. Price: NOT AVAILABLE FOR SALE AT THIS TIME.



For complete technical details and correct use of the Type "E" electrodes, please download the instruction manual.
---

---
This web site and all contents including pictures, text and diagrams is Copyright © 2012 - 2018 by Ralph M Hartwell.